With any season, accessorising an outfit is key. This season it's all about those little peckers that sing from tree tops, forests wide. Birds. No, not Tweety bird, but owls and swallows. They are soaring in all over the high street, in the form of chunky rings or statement outfit-finishing pendants.
I've always been fond of a bird accessory, I recently purchased a Swooping Swallow bracelet from DollyBowBow to go with my 'Vintage owl' necklace from Dorothy Perkins or my swallow waist belt from New Look.
Here's a couple of accessories I've seen that I like: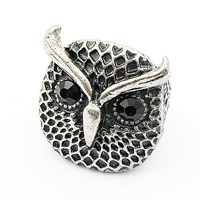 £5.99 Cupcake Jewels (I wouldn't mind this little tweetheart for my birthday, hint hint...)
This is nice as it is a bit different to the standard bird accessories.
This is the classic owl pendant, I like the fact it's broken into different body parts.
Double rings and knuckledusters are a big accessory trend this season so with this ring you're killing two birds with one stone (pardon the pun).
I thought this was really cute. It's definitely a statement piece, you wouldn't need much more accessories with this on.
This is one of my favourites. I like that the bird design is different and that its got this antique gold colour to it.
What about you? Got any cool 'tweety' finds?