It's pay day today, which has only got me lusting all things new and shiny. I've been a jewellery mood recently and this evening i've been trawling the endless online boutiques. My favourites by far are Regal Rose, Junk Jewels, Temporary:Secretary and DollyBowBow. I thought I'd show you what's in my baskets currently.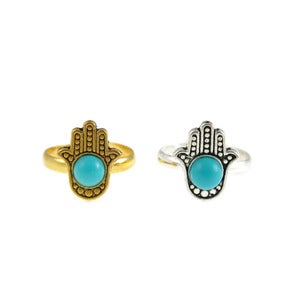 Evil Eye. Hamsa Hand Ring; £5.00
I've had a thing for these little hands lately, and definitely feel that the silver ring could be a nice addition to my costume jewellery.
Single Boho Peace Sign Necklace; £9.00
I've been after a long peace sign necklace for a while now, i'm starting to favour longer chains to shorter ones now, not entirely sure why!
Silver Peace Friendship Bracelet; £6.00
I have a bit of a thing for peace signs at the moment (bet you couldn't tell). I think it's what they represent more than anything else.
Silver Wing Friendship Bracelet; £6.00
If you remember back a month or two, I was obsessing over birds, and I still think they are pretty cute when it comes to accessories. These types of bracelets are best layered together and their coloured 'chains' make for easy styling with different outfits.
Hamsa Hand Bracelet; £6.00
Although this is out of stock at the moment, I still like it. Slightly different to the ring featured above, it would be quite cool layered with other bracelets.
Teal Oversized Velvet Hair Bow; £6.00
I've been looking for a massive bow for my hair for a while. I would only wear it with a top bun for decoration. I like the colour, it's a bit different from the bog standard black.
Anyone who knows me, knows I love the Duchess of Cambridge. This is more of a 'poke fun at self' choice, but seeing as i'm known as Kate in the office, thought it was pretty appropriate.
Harmonica Necklace; £16.50
I featured these a while back, and I just love them. I'm prone to play with my necklaces so this would be a whole new world of amusement.
Those are my basket of goodies, but what I need help with is finding a reasonably priced replica of this necklace:
I really like these necklaces but refuse to pay the hefty price tag now associated with them since becoming popular. If you know any boutiques that do something similar please let me know! Happy Friday everyone, I'm off to catch up on Pretty Little Liars! I'll leave you with a cover I've been playing non stop lately by the lovely Rachel Furner - enjoy!