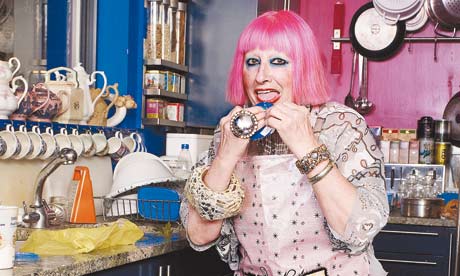 I was lucky enough to be able to go along to a guest lecture at my university today, given by none other than Zandra Rhodes.
She was introduced to us as "instantly recognisable by her pink hair", which could only be pulled off by the chicest of gals. Zandra told us that her hair was an expression of who she was creatively and said, "I did dye my hair brown once, it was bloody boring".
The lecture took us through her career, the struggles and the breakthroughs. Diana Vreeland helped her out by putting her designs in Vogue before creating costumes for popular operas, The Magical Flute and Aida. Zandra is highly influenced by different cultures shown through her Egyptian, Indian and African inspired collections.
Whilst talking us through a slide show of her work, one slide made the whole room sigh. Sarah Jessica Parker on set of Sex and the City wearing one of Zandra's designs. Incase you were wondering, it was season 6, episode titled "Carrie and the Russian" (see below clip).
With an incredible career behind her, Zandra has no intention of quitting now. She's still designing for the operas that move all over America as well as enjoying watching her creations appear on the likes of Paris Hilton or the Olsen Twins. "I don't know these twin girls, but one of them always has something of mine on."